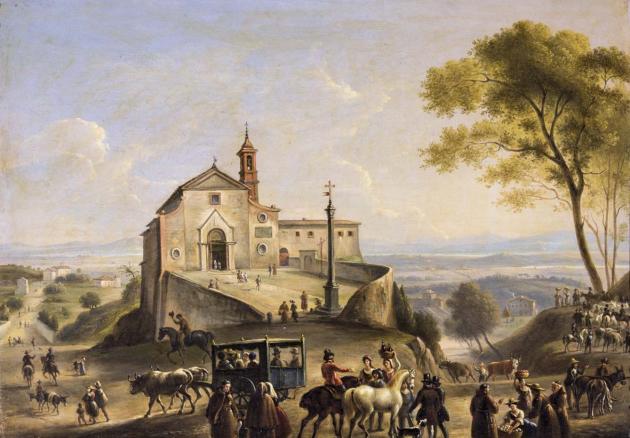 From the end of the 17th century onwards, the rich descendants of European aristocracy, to complete their cultural formation, embarked on a long journey with Italy as their prime destination, visiting its towns and cities and discovering its great cultural heritage. This practice, apart from being a unifying factor of cultural identity of the so-called "Republic of Letters", was substantially a true and proper paradigm of knowledge declined in the formulization of codified itineraries, in the search for precise "places" (material or intangible), in the exercise of specific forms of sociality.
The 18th-19th century Grand Tour testifies the evolution of taste and style of the public potentially involved in this great experience of discovery, knowledge and cultural enjoyment. From the almost exclusive research of the testimonies of classical Greek and Roman civilizations, and more in general of the ancient, with the progressive affirmation of the late18th century romantic sensitivity, the European traveller turned his attention towards other "attractors". To use a contemporary term: the Middle Ages, the Renaissance, but above all the "Picturesque", understood as a harmonious balance of the anthropized landscape, characterized by a precise value investment of open interpretation between architecture and environment, between work and human activity and natural beauty.
Far from being exhaustive in a cultural activity of private pleasure, the Grand Tour contributed, more or less consciously, to the enhancement of objects plus cultural and landscape realities known as "monuments of civilization". In other words, everything we recognise today as being worthy of protection, object of museumization, authentic expressions of a land, make up an obligatory stop for today's visitors (tourists). On the basis of this interpretative matrix and a historical suggestion that together launch Lake Trasimeno, and the whole of Umbria, among the most privileged destinations of the Journey in Italy, this museum enhancement project aims at re-proposing, in a contemporary key and thanks to the use of advanced technological tools and new paradigms of experience, the emotion of the Grand Tour. Discovering a land, and above all, the choral narration which is able to propose the museums, places of culture, anthropologic traditions and artistic attractions embedded in it.
As in a modern Grand Tour, the rich museum and cultural heritage of the Municipalities involved in the project, is interpreted, narrated and declined according to the following thematic keys that retrace the main "places of experience" of the Journey in Italy in its diachronic dimension: THE ANCIENT PERIOD, THE MIDDLE AGES AND THE RENAISSANCE, THE PICTURESUE and TODAY.
(Photo: Michelangelo Pacetti: View of the St. Agnes Church, Montepulciano 1857, oil on canvas with LakeTrasimeno in the background)